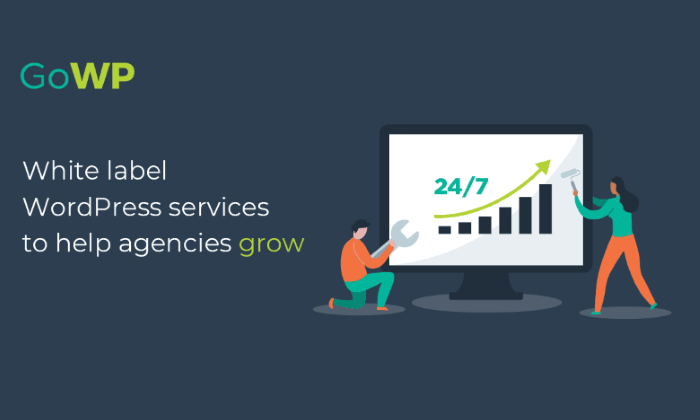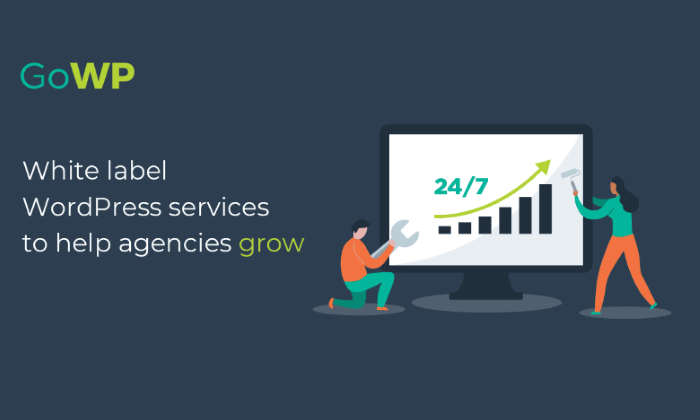 Disclosure: This content is reader-supported, which means if you click on some of our links that we may earn a commission.
Make no mistake: running a website is hard.
There are so many areas to focus on, from content creation to admin, to maintaining a site via updates.
The good news is that WordPress maintenance services can take a load off users' shoulders, keeping their sites up to date and allowing them to spend their time elsewhere.
These services offer support and can help with website downtime, theme modifications, site backups, and more.
I've put together a list of the best WordPress maintenance and management services to help you get started.
#1 – GoWP — The Best For Agencies
GoWP is an ideal WordPress maintenance service for agencies.
It positions itself as a white-label service, which allows an agency to layer its own branding and SOPs on top of the maintenance services GoWP provides as if those services are now part of the agency's own back end.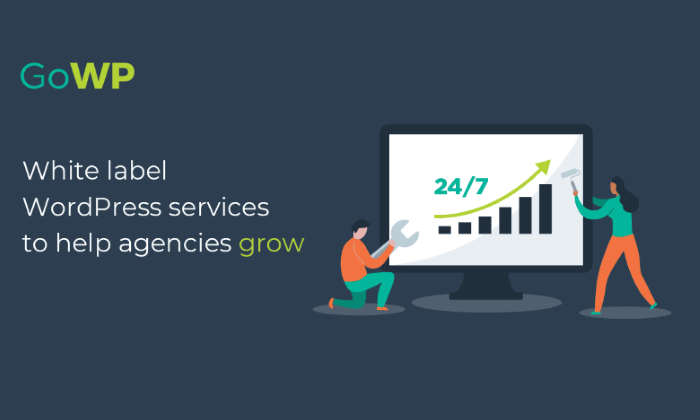 The white-label focus allows GoWP to create a dedicated mailbox using a domain, provide help and support to all requests to that email, and share a white-labeled dashboard with clients.

On top of that, you have WordPress plugin updates, security monitoring, and automatic site backups with 90 days of offsite storage.

Other powerful features of GoWP include:

Unlimited content editsDedicated account manager (premium)Dedicated WordPress developer (premium)Daily security scans and malware cleanupWhite-label help desk

GoWP has four main tiers of pricing that come under the following sequential packages:

Maintenance / $29 monthly per site       Content Edits / $79 monthly per site       Page Builds / $1299 monthly per site      Dedicated Developer / $2299 monthly per site

The second tier gives agencies access to a 24/7 team of experts, a support ticket dashboard, and Visual Validator WordPress updates.

The next tier jumps up in price but does provide you with a dedicated WordPress developer for it. Learn more at GoWP.
#2 – FixRunner — The Best For Tech Support
FixRunner is a great choice for dedicated tech support.
The service features monthly support time from two hours to four hours—this does depend on the plan you opt for—and additional help is available if you need it.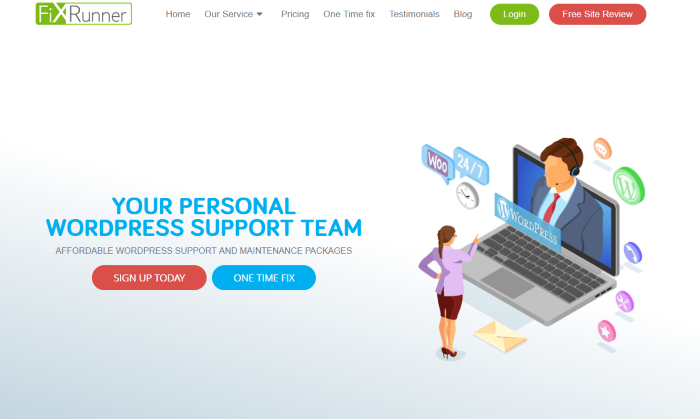 You'll be able to use this support time to make all sorts of tweaks to a site, including full debugs, performance improvements, and more.

I was particularly impressed with FixRunner's 30-day satisfaction guarantee that offers a full refund, no questions asked if you're unhappy with the service.

FixRunner additionally offers:

Speed OptimizationWordPress core updatesPlug-in and theme updatesUptime monitoringSecurity scans

The service provides plans for both small websites and bigger, enterprise-level ones. There are three core plans available for smaller websites:

Premium / Monthly, quarterly, or yearly / $69 monthlyRocket / Monthly, quarterly, or yearly / $99 monthlyAdvance / Monthly, quarterly, or yearly / $179 monthly

For bigger websites or Enterprise-level business, we have the following:

Advance + / Monthly or quarterly / $300 monthlyAdvance ++ / Monthly or quarterly / $500 monthlyCustom / Monthly or quarterly / Call for price

If you're a smaller website, I think the Rocket package is a good starting point–it includes support for online shops, on-page SEO optimization, and a faster response time for sites, making it a notable offering all around.
#3 – WP Buffs — The Best For Site Security
WP Buffs is a top maintenance service for those that want full confidence in their site's security.
When users purchase the service, they'll be able to use the iThemes Security plugin—considered to be one of the best security plugins available.
The plugin exists to protect a site from nasty malware and spam, but it's also useful for its cache feature that improves the loading speed of a site—something crucially important for good rankings.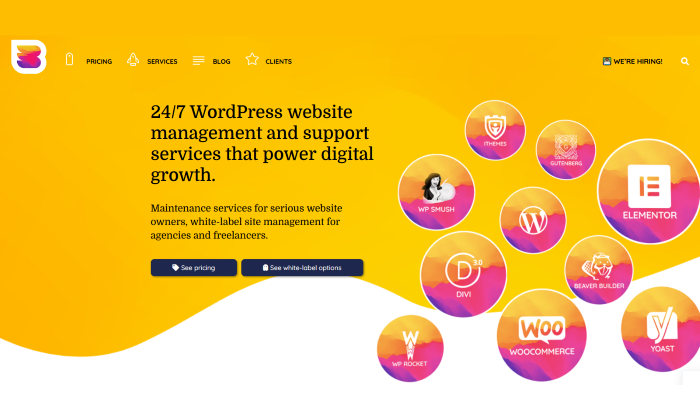 Users also have the option to back up their entire site with WP Buffs and store it in the cloud for extra peace of mind.

Other key features of WP Buffs include the following:

24/7 site editsSpeed optimizationOngoing securityWeekly updatesEmergency 24/7 support

On the pricing front, WP Buffs offers multiple different plans. The four key ones are Maintain, Protect, Perform, and then a series of custom plans for those with advanced needs.

Itemized these are:

Maintain / Annual or monthly / $56 a month billed yearlyProtect / Annual or monthly / $123 a month billed yearlyPerform / Annual or monthly / $164 a month billed yearlyCustom / Annual or monthly / starts at $290 a month billed yearly

The iThemes Security Pro premium plugin is included from the second package onwards or the 'Protect' tier in this case. The third level of pricing, 'Perform,' includes four daily cloud backups, priority support, and complete malware removal.
#4 – Valet — The Best For Ecommerce Store Owners
Valet should be a top pick for those that run ecommerce stores.
It's a comprehensive service that provides manual updates and includes uptime monitoring, security scanning, and full examinations of checkout workflows, all of which help ensure everything is running smoothly for your customers.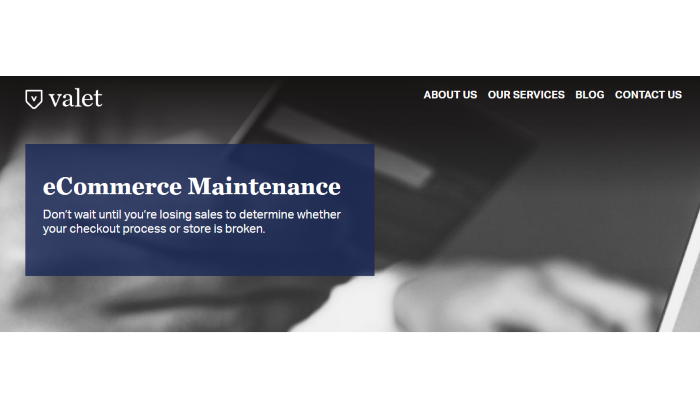 Some of the other highlights include:

Code checksReports and analysisRemediation for website accessibilityUp to five hours of dedicated support per month

The first paid plan with Valet starts at $300 per month and includes two hours of support.

Ecommerce store owners should check out the professional plan that costs $750 a month but includes five hours of dedicated support every month.

The top tier plan with Valet is the 'Elite Plan' that offers over ten hours of support each month, and this is quite clearly catered towards large companies that have the extra funding available.

General consultations with Valet are available and cost $175 per month.
#5 – SiteCare — The Best For Performance Optimization
SiteCare is the best option on my list for site performance optimization.If you want a service that will optimize a site so it loads as quickly as possible, this is your top choice.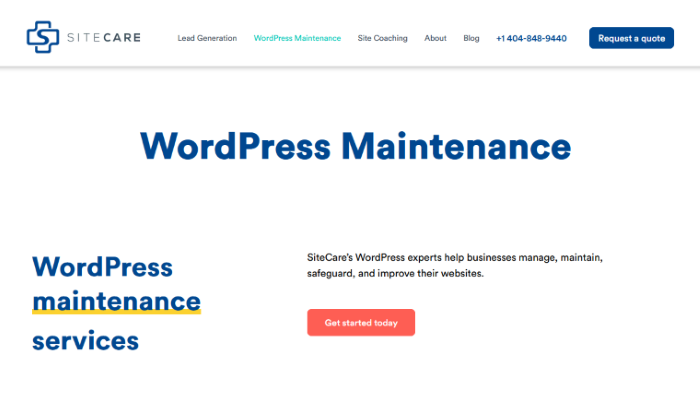 SiteCare gets to work by first looking at aspects of a site that could be causing it to slow down. This can be due to anything from poorly optimized images to faulty plugins or a web host's quality.

Once that's done, the service implements a series of best practices, removing the website's weaknesses step by step until it's responsive and efficient.

SiteCare offers the following to those that use the service:

Hack cleanupsDaily backupsReal-time monitoringTheme and plugin updatesMobile optimization

In terms of pricing, things are clear and simple. There are two key plans available: a basic plan and an advanced one.

The basic plan costs $79 a month and includes access to the essentials, such as daily backups, malware cleanup, and access to support.

The more advanced plan costs $299 a month, so quite a jump, but for that, you get access to custom development hours with a specialist and a few extras such as ecommerce support and Sucuri firewall.
#6 – The WP Butler — The Best For Custom Plans
Only want specific parts of a service? Well, The WP Butler is unique because it allows users to customize their service plan.
For example, maybe you're just looking for caching and speed improvements but don't require anything else.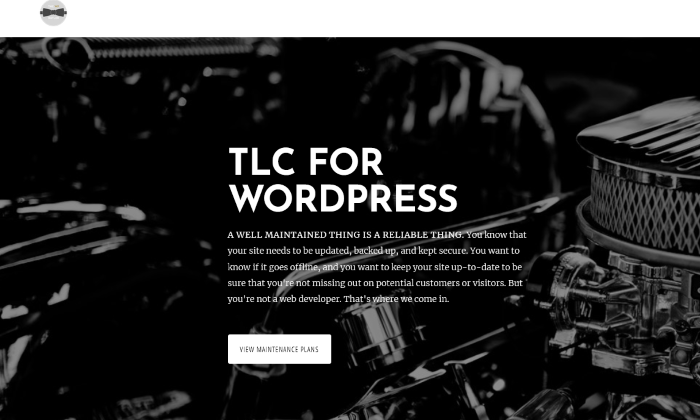 Monthly services with The WP Butler include malware scans, daily or weekly backups, and plugin or theme updates.

The itemized one-off service includes everything from configuring HTTPS to a custom security inspection.

Additional features of The WP Butler include:

Weekly site reviewsUptime monitoring30 minutes of development time on retainerEmergency site restorationSecurity plugin configuration

As there are quite a few options with The WP Butler, pricing varies significantly depending on what you need.

If the monthly packages are more suited to you, these come in the following tiers:

The Basics / $39 a monthThe Solopreneur / $69 a monthThe Small Business / $129 a monthThe Company / $299 a monthThe Enterprise / $599 a month

One-off services range from $100 to $250, and there's even the option of a monthly retainer. With this, you pay for a set number of hours of development work each month. Lots to choose from here.
What I Looked at To Find the Best WordPress Maintenance and Management Services
Before deciding which of these WordPress maintenance and management services to go for, it's worth knowing how I chose them.
The first thing to mention is that there are two primary forms WordPress maintenance can take.
Generally speaking, there are WordPress maintenance services like the ones featured in this list, and there is "managed WordPress hosting."
If a site is part of managed WordPress hosting, then there's a good chance you won't need maintenance service on top of that. Examples include WP Engine, Bluehost, SiteGround, and WordPress.com (not WordPress.org). If you're hosting your WordPress site with any of these, maintenance services may not be necessary for you. 
Since you're reading this post, though, you've probably chosen to use a WordPress maintenance service outside of your hosting platform (or are hosting your site with a platform that doesn't provide those services), so here are some of the features I looked at to pick out the best maintenance services. 
Security Monitoring
It goes without saying how important security is for a site in the internet age. With the increase in threats and cyberattacks, knowing someone has got your back can bring great comfort.
Most of the maintenance services on this list include top security monitoring as part of their monthly packages, although not every service will. Some, for example, might include this as an optional extra.
How essential this is depends on the size of a company, but in most cases, monitoring a site for threats and knowing what to do if attacked is key. A maintenance service removes a great deal of worry here, so I think it's a vital area to consider.
Site Optimization
Site optimization is a broad term, but in the case of WordPress maintenance and management services, I'm mainly talking about making a site more responsive and quicker to load.
A slow website can lead to people leaving sites rapidly in today's fast-paced world, not to mention that Google actively penalizes slower websites by pushing them down in the search results.
A WordPress maintenance service can optimize a site to load quickly, making it responsive and pleasurable to use. This is important for every single site on the internet.
Almost all of the WordPress maintenance services on this list include site optimization in some form, though the exact service carried out can vary.
Backups
A site that's a victim of a cyberattack could find itself damaged and beyond repair—that's where site backups come in. These allow users to restore a healthy and fully working version of said site.
In fact, it might not be a cyberattack, mistakes that delete files or whole databases can happen, sometimes inexplicably.
Having a maintenance service ready and waiting to install a healthy backup of a site if something goes wrong is beyond useful. It removes a lot of the stress from potentially losing everything.
Companies of most sizes will find this a vital feature, although site backups are easy enough to do if you're an informed solopreneur—in the case of the latter, they might not need this particular service.
Conclusion
WordPress maintenance and management services can be crucially important to the right person. There's a considerable amount of choice out there too, and knowing where to start can be difficult.

My list covers all of the key areas to consider:

GoWP — The Best For AgenciesFixRunner — The Best For Tech SupportWP Buffs — The Best For Site SecurityValet — The Best For Ecommerce Store OwnersWP Site Care — The Best For Performance OptimizationThe WP Butler — The Best For Custom Plans

These are respectable choices, and thinking about exact needs can help make the decision process a little bit quicker.

There's a lot to think about when running a site, from site backups to security and optimization.

WordPress maintenance services will allow the process to become more manageable, saving precious time for use elsewhere.

The post Best WordPress Maintenance and Management Services appeared first on Neil Patel.




By: Neil Patel
Title: Best WordPress Maintenance and Management Services
Sourced From: Original article available: neilpatel.com/blog/best-wordpress-maintenance-and-management-services/
Published Date: 2021 03 02